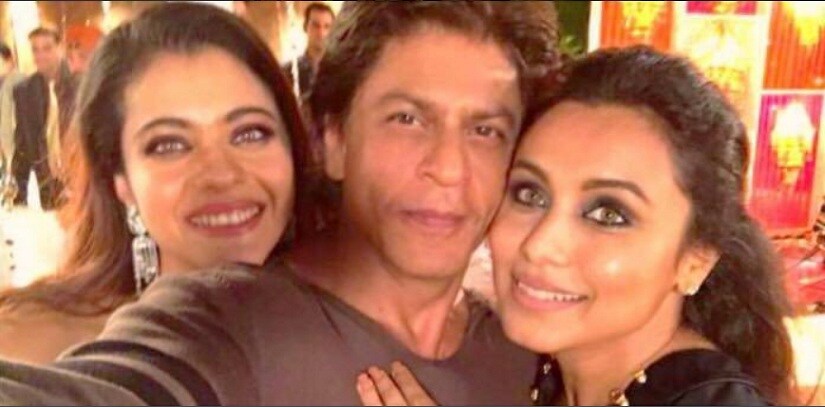 Quelle
May,08 2018
Nach den Gerüchten, dass Virat Kohli und Anushka Sharma ihren Einstand als Paar bei Koffee With Karan geben, machen Berichte die Runde, dass Shah Rukh Khan, Kajol und Rani Mukerji zusammen zu der Talk Show kommen. Einem Bericht der Filmfare zufolge könnte das Kulttrio aus Kuch Kuch Hota Hai bei Karans Show wieder zusammentreffen, um das 20jähre Jubiläum des Films zu feiern.
Eine dem Regisseur und Produzenten nahestehende Quelle wurde in der Publikation mit den Worten zitiert, "Diese Kombination mag nicht neu sein, punktet aber in Bezug auf die Nostalgie. Die Organisation steht noch nicht. Es werden noch Ideen gesammelt. Viele Namen werden in die Runde geworfen und es ist noch zu früh, um was zu sagen."
Obwohl es keine offizielle Bestätigung von Seiten der Schauspieler oder Regisseure gibt, grassieren Gerüchte einer möglichen Episode voller Nostalgie. Kajol, Rani und Shah Rukh sind Veteranen bei Koffee With Karan und mehrmals mit verschiedenen Gästen in der Show gewesen.
Was den ersten gemeinsamen Auftritt von Virat und Anushka bei Koffee With Karan angeht, ist da noch nichts offiziell. Auch Shahid Kapoor war bei seinem ersten öffentlichen Auftritt mit seiner Frau Mira Kapoor nach der Hochzeit bei der Show aufgetreten. Deshalb könnten auch Virat und Anushka ihren Einstand bei der diesjährigen Show geben.